A place where Nature and Human together created a Miracle.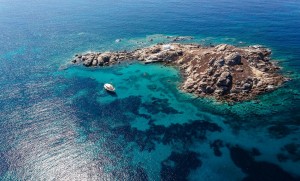 "Parthena Island" is a small island situated 400 meters from the north beach of Mikri Vigla. This is the reason why the beach is called "Parthena" (in English means Virgin). On the island there is a unique small church dedicated to Virgin Mary.  The island is a jewel of natural beauty and combined with the picturesque tiny church they create a unique cycladic  landscape.
The visitors can reach the island either with their private boat or with other floating units such as kanoe, windsurfing etc and of course the most braves can swim.
The island is worth to visit and enjoy the magic scenery.
The celebration
The small church celebrates 40 days after Easter which for the orthodox church is the celebration of the Resumption of the Christ. This celebration is a special day  for Naxos Island which the locals call "Plitheris". Traditionally, it is the celebration of the shepherds. On the past it was the day they were cutting the sheep' s fur and they were throwing them in the sea. Furthermore during that day at the farms the shepherds did not produce cheese but only the local sour milk and they were offering it to the their visitors. The meaning of all this was to pray for a good fortune during the summer that was just beginning and to multiply their goods. "Plitheris" comes from a Greek word that means plural.
For centuries and until the 80s Mikri Vigla was a grazing land and this is why the church is celebrated at this special day. Nowdays, although stockraising has been extincted from Mikri Vigla, the necessity for the hope that is represented by the meaning of this celebration still exists. This is why the local people of Mikri Vigla still carry out the celebration of the island.
On the day of the celebration the boats come from early in the morning to Mikri Vigla and they take the visitors to the island. There the orthodox liturgy is carried out and afterwards a traditional festival with local products, wines and of course music is set. It is an once in a lifetime experience.
A little of history
It is not known when the church was primarily built, surely it is more than 200 years old. It is believed that it was a vow of the fishermen as long as the little port of the island is a natural shelter for every wind. Primarily the church was dedicated to Saint Nicolas, who is the protector of the seamen for the orthodox church. The legend tells us that several years after it was firstly built, during a storm a fisherman left his daughter on the island so that it would be safer than staying on the boat with him. Unfortunately, when he went back to pick her, he realized that she was dead. Afterwards he rebuilt the church on the name of Virgin Mary as a tribute to his dead daughter.